PEO (Professional Employer Organization)
Focus on your business and we'll focus on the rest.
A Professional Employer Organization is an outsourcing firm that provides services to businesses of all sizes and industries, including start-ups to high-risk businesses.
At PEOPartners, we focus on setting you up with the PEO that best suits your needs. Payroll, benefits, HR, compliance, and workers' compensation insurance — all in one place and at the lowest rates. PEOPartners simplifies your business's back office complexities, so you can return to the business of your business.
PEOPartners helps simplify your transition to working with a PEO, making it as seamless as possible. PEO's are responsible for processing your business payroll and paying payroll taxes, maintaining workers' compensation coverage, providing employee benefits and career development programs, providing human resources guidance, and providing worksite safety guidance. You continue to operate your business as you did prior to the PEO relationship. You remain an employer and do not lose any of your management or supervisory rights. In fact, because they help you manage HR and minimize risk, you actually have greater control of your business, because you can focus on your priorities – and not HR.
In fact, PEOPartners learns your challenges and aspirations and will recommend a PEO that will help you achieve your goals. You are able to leverage the best of both worlds: the flexibility and control of owning your own business, along with the benefits and expertise of a large organization. If you want help in this area, PEOPartners can help you shape your company culture and employment brand to represent the company you are today — or wish to be in the future.
Why should you use a PEO consultant?
The PEO Bundle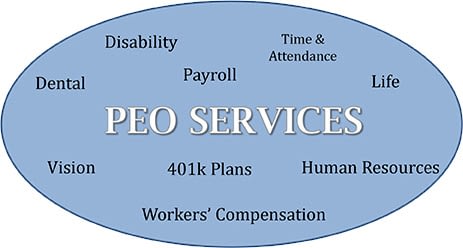 Our PEO consultants can shop the marketplace for you at no cost. We have partnerships with over 20 of the top PEOs in the country. Using our secure server you can upload the information required for a PEO quote and then we can take it from there.
We have over 25 years of experience in the industry and can simplify the process of getting you your PEO Bundle. Our PEO bundle offers the following:
1. Discounted Workers' Compensation Rates
2. Discounted Payroll Services
3. Discounted HR Services
4. Discounted Medical Benefits Rates
Co-Employment Explained
When businesses first hear the term "co-employment," it sounds a little daunting. After all, you built your business from the ground up; why would you hand the reins over to someone else?
It's important to realize that a PEO is only acting as an administrator of HR duties and responsibilities – not everyday business management. So, you will still be in control of managing your business and your employees. PEOs focus solely on employee-related responsibilities. And, co-employment has the added benefit of giving your legal employer responsibilities to your PEO partner – allowing the PEO to save you time and resources and allowing you to only deal with issues that are mission-critical for your company and your employees.